West Hills Dumpster Rental
Rent A Roll-Off in West Hills, CA
Do you have a residential or construction cleanout and live in West Hills? Americas Bin Company and Dumpster Rental provide expert waste disposal services for customers in West Hills. Our team makes renting a construction roll-off as friendly and fast as possible. You're probably here needing s residential-friendly bin to complete your kitchen remodeling. We service dozens of construction, demolition, land-clearing, residential and commercial projects. Our roll-off dumpster rentals in West Hills are perfect for any sized project and fit conveniently in a driveway, street, or alley. When you're ready to rent your dumpster, we can provide you with a proven work record of delivering exceptional waste management services. Unlike our competitors, we've got years of combined experience helping people eliminate construction and demolition waste efficiently. So whether you're looking to hire a small or large dumpster, we're proud to serve the West Hills, CA, area. There are various bin sizes for you to consider based on the scale of your project. For example, do you need to remove the fence, roof, deck, or pool materials? We offer ten and 25-yard containers for rent. The former dumpster is the best option for heavy materials. At the same time, the latter is excellent for light junk like fencing materials and landscaping waste. ABC also has a 40-yard dumpster you might want to rent for extensive jobs.
Dumpster Rental Checklist
Americas Bin Company streamlines processes and provides hassle-free services for homeowners and contractors. Having a rental checklist is essential for a smooth, efficient, and faster. With our knowledgeable dumpster specialists on board, we'll prioritize your project. There are different-sized dumpsters at ABC and rental services for multiple purposes. So how do you rent a dumpster in West Hills? Here is a quick checklist to use when renting your next dumpster for a home or commercial job.
Estimate The Waste Size
You don't have to crack the exact weight of the waste you need to dispose of but create a rough estimate to guide you when selecting the dumpster size. Our customer support will need to know this estimate to recommend the correct container for the material disposal. Also, the project size can help you create a rough estimate of the project cost.
Dumpster Size
Work with an expert to find an optimum dumpster for your construction or demolition job. We have a three-cubic yard front-load bin for light clean-ups, weekend projects like party cleanouts, and more. The 25-yard dumpster is primarily best for residential cleanouts, light demos, decluttering storage, landscaping, and medium construction. Of course, if you've got more debris than what a 25-yarder could take, it is wise to rent the biggest container than several units of a smaller dumpster. In that case, we've got you with a 40-yard container for extensive demos and construction jobs. Remember, sometimes, the weight of the materials to dispose of can dictate the dumpster for your job site. This is especially important to avoid an overloaded container and save money and hassle. Our customer rep is an expert in choosing a dumpster size for any project. Be sure to call ABC and Dumpster Rental at your earliest convenience to find the right option.
Get A Price
It is crucial to know the rate of your dumpster rental beforehand. Each dumpster size we offer has different price tiers depending on the size, project type and rental period, and disposal costs. ABC and Dumpster Rental can provide you with a free estimate on the spot for any dumpster size you need. Additionally, we charge a flat fee for the dumpster services so that you can avoid dumpster overage fees and budget better for your waste disposal.
Prepare Space
Do you have a space to put your dumpster? It would be best to choose an obstruction-free area for your roll-off container. Consider a flat-level surface that's hard enough to withstand a junk-filled dumpster. This makes it easier for our truck driver to roll away the dumpster. At ABC and Dumpster Rental, the priority is to protect your property or construction site, ensuring zero damages from using our roll-off containers.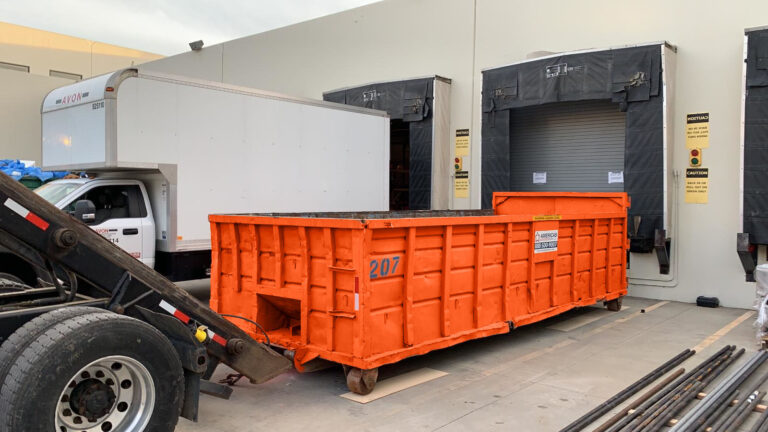 West Hills Construction and Junk Removal Dumpster Rental
Do you need construction or junk removal and disposal in West Hills? Americas Bin Company is the best West Hills dumpster rental for affordable services. You've probably done some window shopping and can't seem to strike the best offer. We guarantee the best rates for 10, 25, and 40-cubic yard dumpsters. Our containers are of high-quality standards and the cleanest, ready for delivery. Are you looking for a bin that's great for site development or crushing? We've handled demolitions, constructions, landscaping, and excavations and are happy to clean up your site. Our team is the most reliable and efficient customer service you'll ever work with in West Hills. Whether you're a homeowner, project manager, or business owner, you can trust ABC and Dumpster Rental for convenient and dependable services. Ready to order a roll-off from the best dumpster rental company for home cleanout and renovations in West Hills? Contact us today.