Commercial Dumpster Rental
Rent A Commercial Dumpster in Los Angeles
Are you a business owner needing efficient, timely waste removal services? Look no further! America's Bin Company is here to provide top-notch commercial dumpster rental solutions. With over 2,100 commercial projects serviced, ABC dumpster rental is the #1 facility for commercial dumpsters in the Los Angeles County area. 
We have the perfect container to meet your commercial waste disposal needs with various sizes available, including 3, 10, 25, and 40 cubic yards. Our highly-trained waste removal crew is committed to delivering exceptional customer service, ensuring we meet your waste disposal requirements with utmost professionalism and efficiency.
How Big Is A Commercial Dumpster?
ABC Dumpster understands that all commercial waste collection jobs are unique, which means a commercial dumpster can be small, medium, or large. We have different-sized commercial dumpsters to meet your individual business needs. Select the correct commercial roll-off from the below four options we have.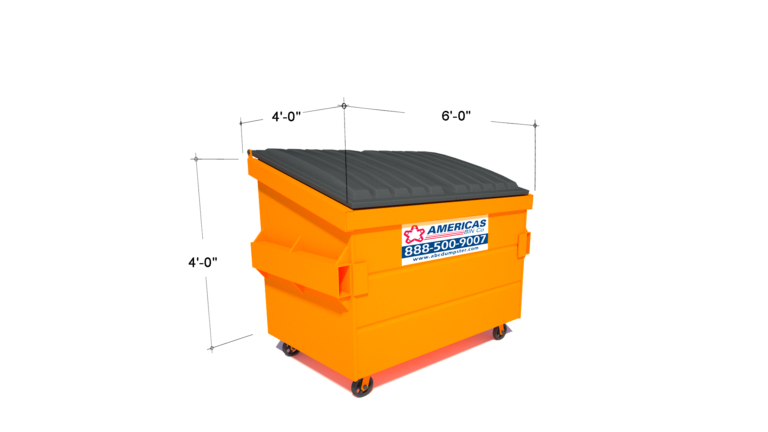 Ideal for small businesses and projects with limited space, this compact dumpster can hold approximately 30 to 40 regular-sized trash bags. Are you planning to host a party? This dumpster size is perfect for eliminating the mess that comes with gatherings and get-togethers. We can accommodate small and big projects with as many bins as needed—Our trucks can deliver and pick up two dumpsters at once. 
Dimensions:
6′ Long x 4′ Wide x 4′ Tall
Best Use:
Party clean-up, office or business use, or light clean-up.

This mid-sized dumpster is perfect for moderate waste removal. It can hold around 80 to 100 regular-sized trash bags, making it suitable for retail stores, restaurants, and office buildings. Remember, this container is the best choice for heavy municipal solid waste.
Dimensions:
16′ Long x 8′ Wide x 2′ Tall
Best Use:
Heavy materials like concrete, asphalt, and dirt.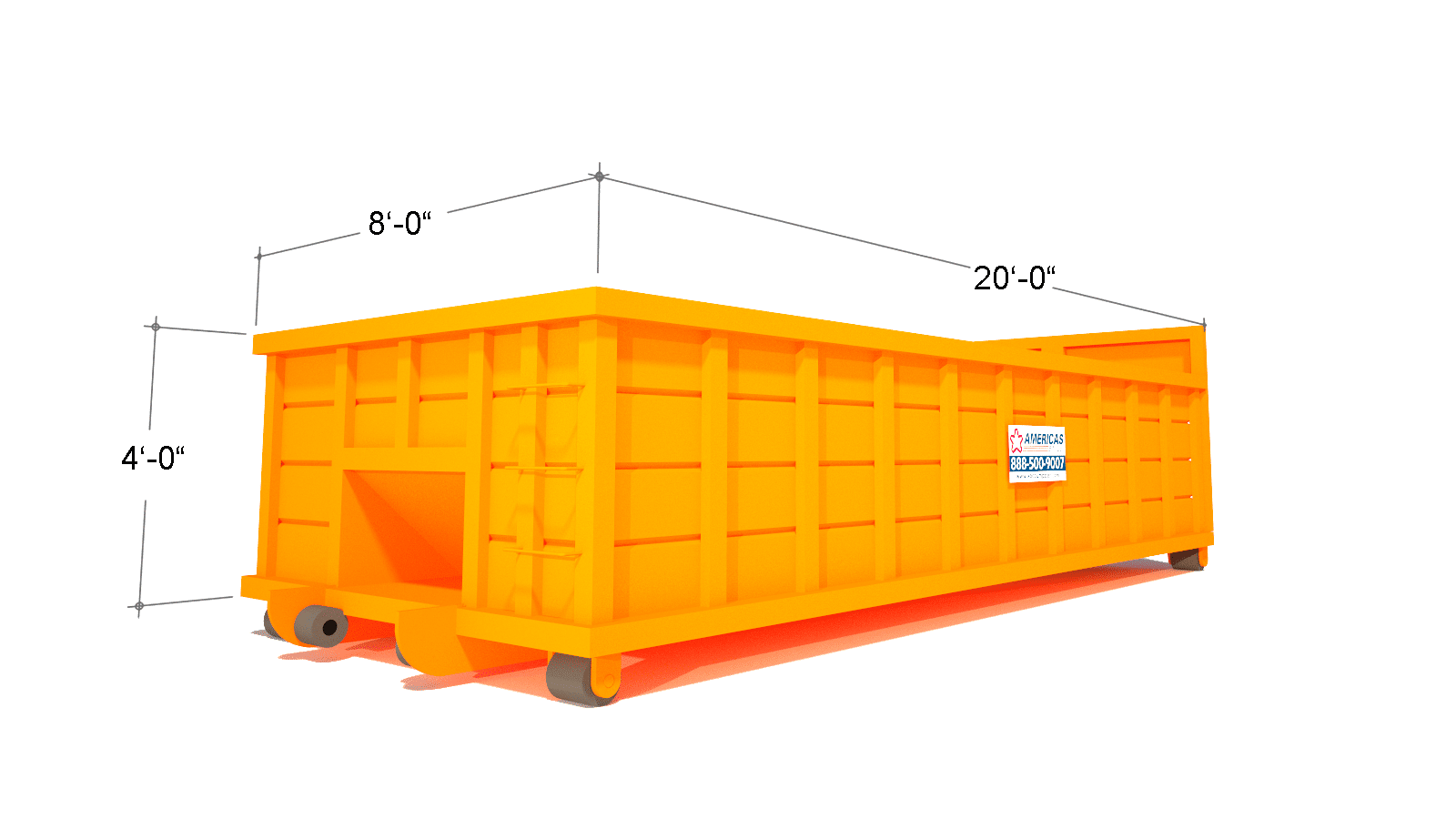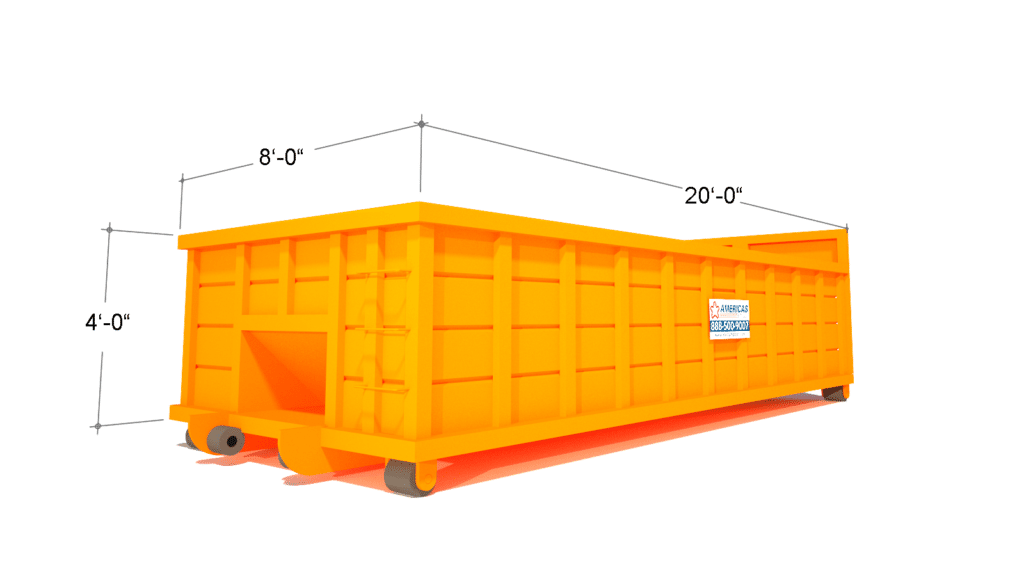 With a larger capacity, this dumpster is well-suited for larger businesses and construction sites. It can hold up to 200 regular-sized trash bags, ideal for renovation projects, commercial cleanouts, and industrial waste disposal.
Dimensions:
20′ Long x 8′ Wide x 4′ Tall
Best Use:
Ideal for heavy-debris home clean-outs and remodeling cleanup.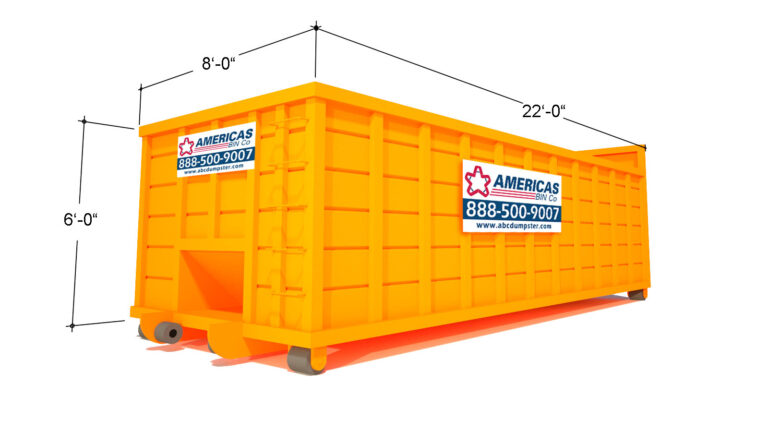 Our most extensive dumpster option, the 40 cubic yard dumpster, is designed for extensive waste removal demands. It can hold up to 300 regular-sized trash bags and is suitable for construction sites, large-scale renovations, and commercial properties.
Dimensions:
22′ Long x 8′ Wide x 6′ Tall
Best Use:
Ideal for large construction and remodeling homes.
What Can I Put In A Commercial Dumpster?
America's Bin Company champions a cleaner and safer environment. We follow the latest guidelines on commercial waste disposal and strive to recycle as much as possible, reducing the waste's impact on the environment. 
Our commercial dumpsters can handle a wide range of waste types, including:
Why Choose ABC Dumpster?
→ Reliable Service:
America's Bin Company understands the importance of timely waste removal for your business. Our team is dedicated to delivering prompt and reliable service, ensuring we exceed your expectations.
→ Flexible Rental Periods: 
We're known for the standard seven-day rental and flexible options should you need them. And this means you can request a commercial dumpster for a day, a week, or a month. We are committed to providing you with the convenience you deserve.
→ Competitive Pricing: 
Ask our past customers, and they'll tell you that the commercial dumpster price at ABC is spot on! We strive to provide reasonable rates for the best-in-class dumpster services. Furthermore, our pricing is competitive and transparent, with no hidden fees or surprises. You can trust us to deliver exceptional value for your investment.
→ Environmentally Friendly:
We prioritize sustainable waste management practices. Whenever possible, we strive to recycle and responsibly dispose of the waste we collect, minimizing our environmental impact.
→ Expert Customer Support:
Our knowledgeable and friendly customer service crew can address any questions or concerns. We are committed to providing you with a straightforward and satisfying experience from start to finish.
Experience the ABC Dumpster Difference Today!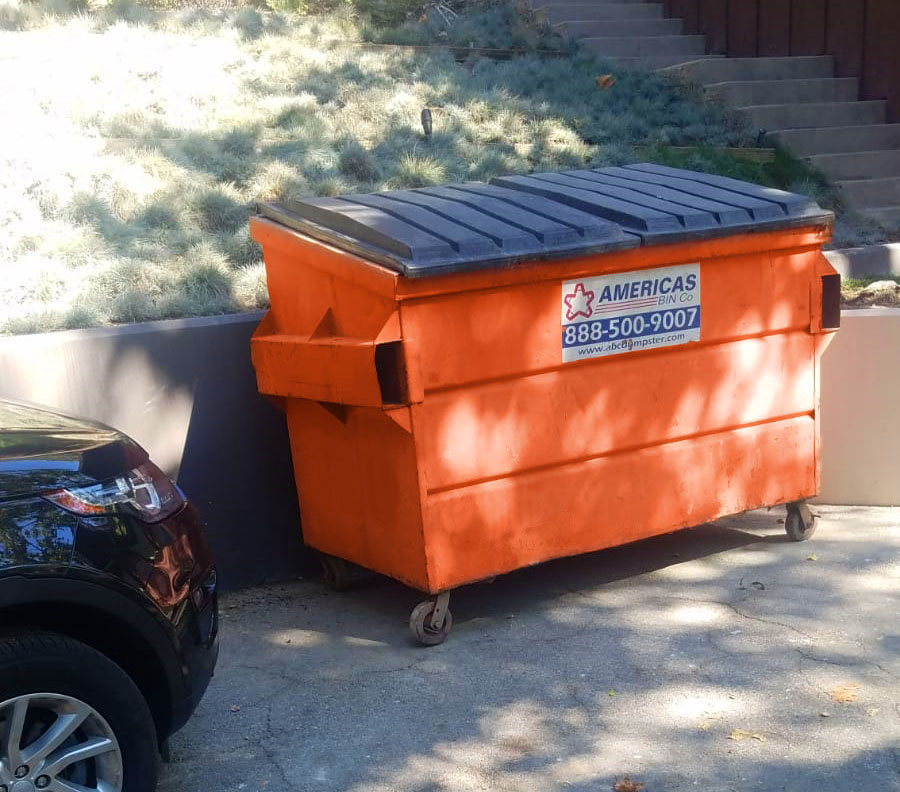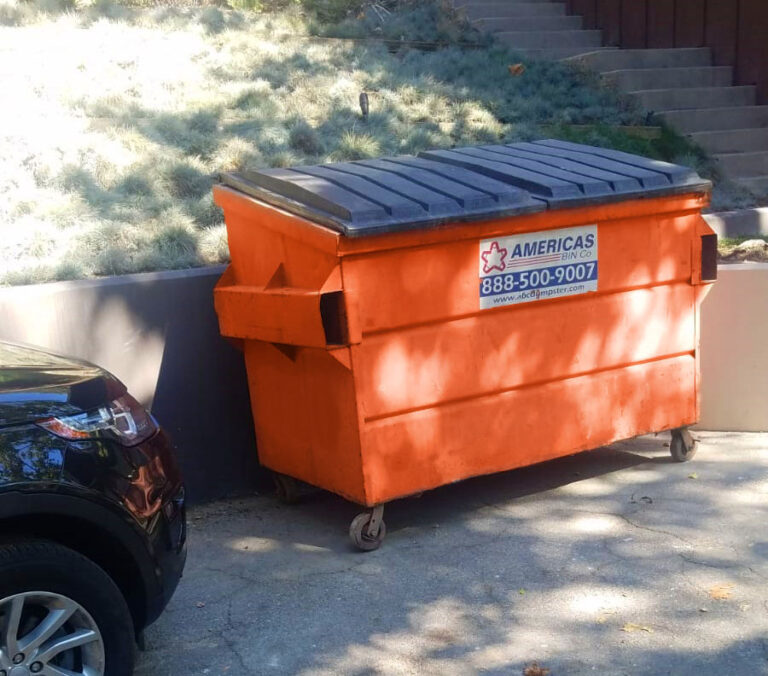 When it comes to commercial dumpster rental and waste removal services, ABC Dumpster is your go-to provider. We are here to exceed your expectations with a wide range of dumpster sizes, exceptional customer service, and a commitment to support local businesses and organizations. 
Contact us today to discuss your needs, and let us take care of your waste removal for your business so that you can focus on the important stuff.
Frequently Asked Questions:
We offer flexible rental periods tailored to your needs. You can rent a dumpster for as little as a day or an extended period, depending on the duration of your project.
Regulations regarding street placement vary by location. Our team will work with you to determine your dumpster's best and most compliant placement options.
If your waste removal needs change during your project, contact our team, and we will work with you to provide a suitable alternative.