Rent A Roll-Off in Van Nuys, CA
Chances are you searched Van Nuys dumpster rental on Google, and Americas Bin Company came up on the first page. Allow us to introduce ourselves and the dumpster rental services we offer. We're the premier bin rental company for construction debris and junk removal solutions. 
Typically, we deliver dumpsters for clean-up purposes on construction sites, residential properties, retail businesses, events, demolition sites, and much more. We have run a local dumpster rental for years, providing exceptional services, building relationships, and growing our network of happy customers.
We'd be thrilled to show the most straightforward, affordable, and quality dumpsters for your next cleanout job. We make it easier to compare dumpster sizes and pick the ideal one for the job, customizing the perfect schedule and ordering your dumpster drop-off. Our ultimate goal is to be the reliable hauler all contractors, homeowners, and remodelers can depend on for their job site cleaning.
How do your rent our containers? It's simple! Give us a call and let our support crew know about your waste disposal needs. 
We offer many options, various dumpster sizes, and eco-friendly waste collection services. Get a free estimate for any construction or residential waste disposal job. 
Dimensions:
6′ Long x 4′ Wide x 4′ Tall
Best Use:
Party clean-up, office or business use, or light clean-up.
Dimensions:
16′ Long x 8′ Wide x 2′ Tall
Best Use:
Heavy materials like concrete, asphalt, and dirt.
Dimensions:
20′ Long x 8′ Wide x 4′ Tall
Best Use:
Ideal for heavy-debris home clean-outs and remodeling cleanup.
Dimensions:
22′ Long x 8′ Wide x 6′ Tall
Best Use:
Ideal for large construction and remodeling homes.
Delivering More Than Just Containers to A Project Site
The Americas Bin Company is the most experienced and knowledgeable dumpster rental in Van Nuys. First, we bring unbeatable dumpster rental and waste management to your work site. From selecting the perfect roll-off bin to placing it on your site and picking it up later, and waste disposal, we understand the entire process like the palm of our hands. 
We're a team of qualified waste management experts committed to keeping tabs on the optimum, affordable and eco-friendly waste disposal solutions. We strive to invent and implement new strategies to simplify your roll-off rental and waste disposal experience.
Chances are you've seen our orange containers around Van Nuys. Here is the spoiler alert; our roll-off containers are squeaky clean, look excellent on residential property, and stand out on dusty construction sites. We have a dedicated crew ensuring that our containers in the inventory are top-notch and trash-free dumpsters for our customers. 
Furthermore, we ensure that the dumpster rental rates in Van Nuys are the best you can get without affecting our quality services. You'll pay a clear flat-rate upfront and no shocker fees at a later stage. Our customer reps can help you handle any emerging issues, communicate effectively throughout the project and keep your rental expenses reasonably low. 
Another great thing about ABC and Dumpster Rental is our personable, friendly, and high-spirited nature, always happy to wake up and serve our Van Nuys customers daily. Whether your job site is tricky to navigate, you need help to pull a dumpster permit or tackle extensive junk. We are ready for your project, however big or small.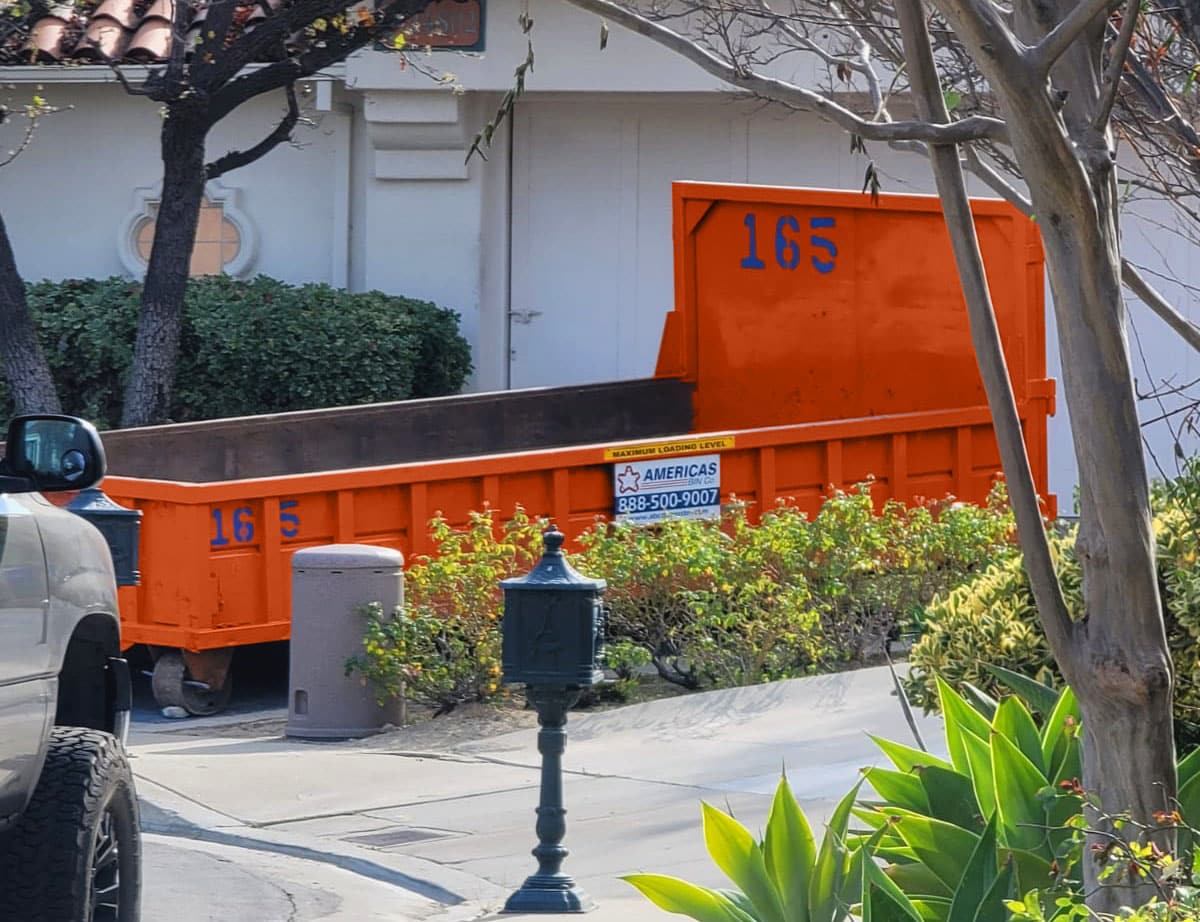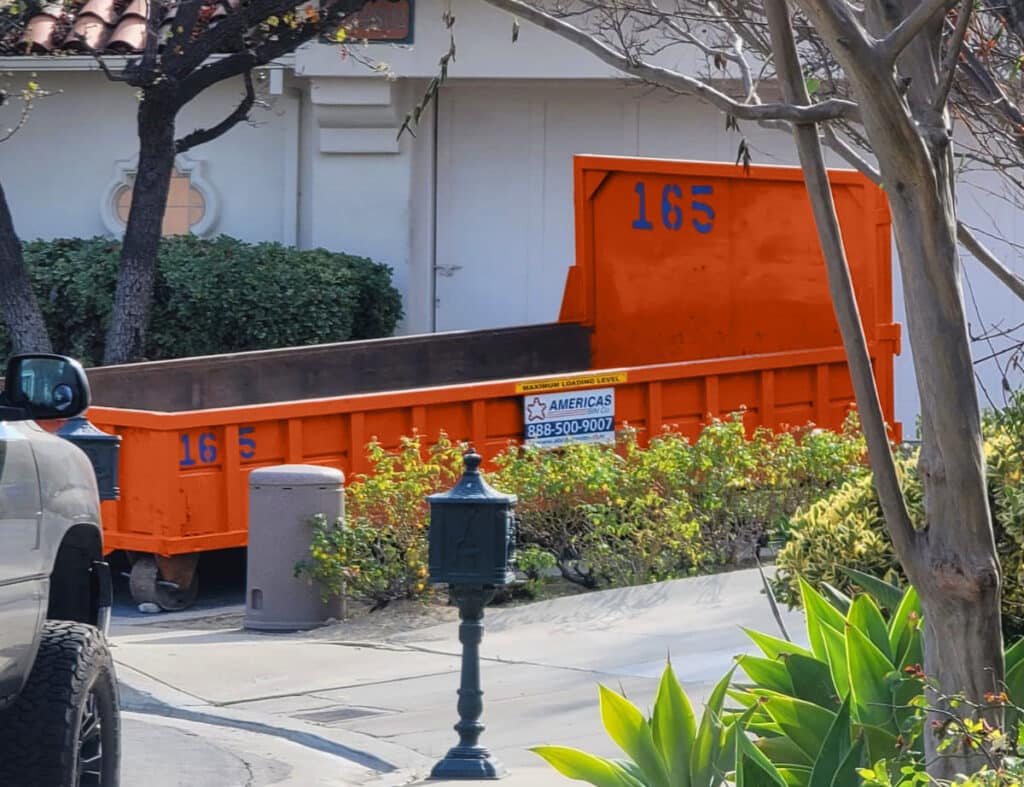 Here at ABC and Dumpster Rental, we treat you and your project as more than just a business number. You're the lifeline of our rental business, and we'll go out of our way to offer the best and exceed your expectations.
Van Nuys Dumpster Rental Sizes
Americas Bin Company offers more than two dumpster rental sizes, and the 10-yarder is the smallest of the three roll-off sizes. This container is designed for dense debris; its height is low—hence the name lowboy—and it is easy to use. You should try it if you have heavy waste like concrete, dirt, drywall, asphalt, stones, bricks, etc. Planning a roofing job or need to tear up the floors? For such and similar remodeling and construction jobs, you can contact us to rent a 10-cubic yard container.
Are you fed up with the junk in the basement? Are you looking for a decluttering hack? Your answer is our 25-yard junk dumpster. It is more than double the size of a ten cubic yards bin and is appropriate for light junk from home and office clean-outs and construction garbage. 
This dumpster is in-demand for jobs like family home clean-up, landscaping debris removal, room remodeling, medium-size demolitions, and more. 
Remember, the container might be double the 10-yard container, but it doesn't hold double the weight of a 10-yarder. Weight and capacity limits vary, and it is vital to get a clarification from our sales rep.
Here comes the biggest roll-off dumpster, and it is the reliable container for extensive construction waste. Additionally, it is the most preferred bin for extensive demos, home upgrades, and new construction projects.
Do you need to change your property's structural design? Are you planning to take down the old roof to the studs? We've got you sorted with a large-size 40-yard container. 
Whether you need to bring down an old property or create a brand new one, we understand the site can get messier. So call customer support right away for any dumpster-size rental.