Rent A Roll-Off in Tarzana, CA
Are you searching for a low-cost Tarzana dumpster rental? Americal Bin Company is the leading supplier of construction and residential-use roll-off containers. We offer small dumpsters, mini bins, and large construction containers for various jobs in Tarzana. As a local waste hauling company, we offer the best rental rates for any bin you need. We're a hardworking team dedicated to delivering nothing short of dependable, quality, affordable, and fast waste management services. Are you looking to rent more than one construction or junk disposal dumpster? We've invested in various dumpster sizes, ensuring you can get the units you need to complete your endeavor. Additionally, we can service the dumpsters, providing routine pick-up and disposal services for as long as necessary. Our crew is the best to work with; they have many years of experience and are personable, treating you like family. Are you working on a renovation or looking to rid your home of junk? Americas Bin Company has got you with inexpensive junk hauling services. We're 5-star rated as the most reliable, affordable, and accommodating dumpster rental in Tarzana. From demos to decluttering to yard cleanup, construction, and commercial waste projects, you can rely on us for premier services.
What to Consider When Renting A Tarzana Dumpster?
There are some bare minimum things to consider when renting a dumpster in Tarzana. Your goal is to get value for every dollar you spend on waste disposal. And undoubtedly, outsourcing waste management services from a Tarzana dumpster rental you trust can make a difference. Below are some of the critical points to consider when looking to rent roll-off dumpsters.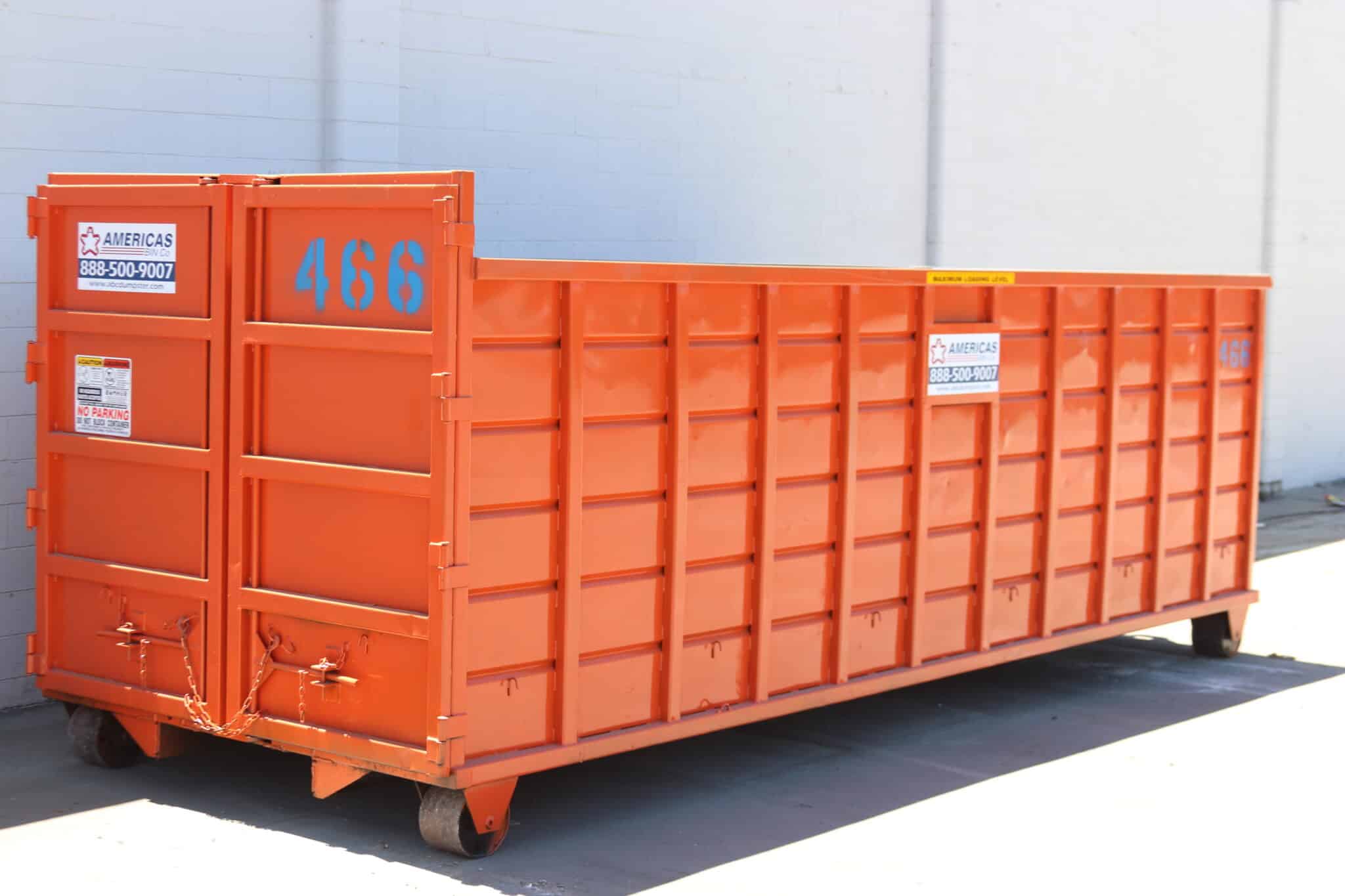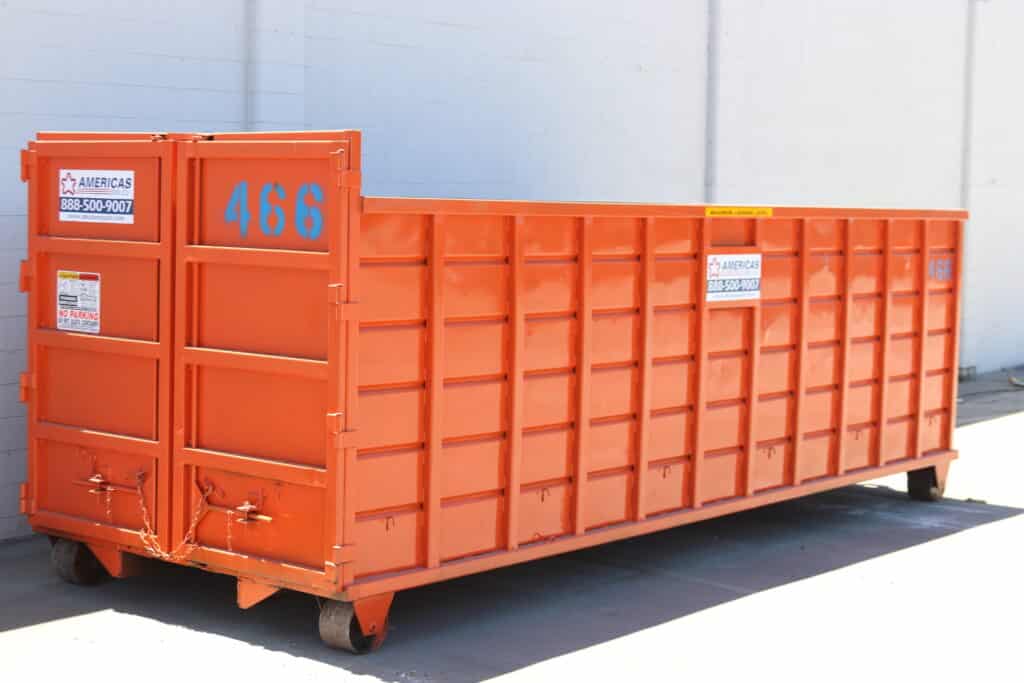 Dumpster Sizes
Each facility has specific dumpster sizes for rent, including a one-size container or various custom options. Working with a rental offering limited dumpster sizes can be challenging. However, working with a dumpster rental that offers multiple bin sizes is affordable and convenient. Americas Bin Company has numerous options for residential, retail, industrial, or construction site projects. With us, you have the opportunity to request a 10, 25, or 40-cubic yard container for any endeavor you're tackling. Ideally, you're looking to rent a 10-yard dumpster for projects like bricks, concrete, shingles, yard waste, asphalt, etc., and disposal. A 25-yard roll-off bin is popular for medium to large home cleanouts, constructions, remodeling, demos, landscaping, roofing, and more. Finally, our 40-cubic yard bin is perfect for extensive jobs like construction waste disposal, extensive trash hauling, and yard cleanup projects. And when you thought the dumpster sizes end there, we have a three-cubic yard front load dumpster for home and commercial jobs. Importantly, our bins are the cleanest in town and of high-quality materials, sturdy enough for heavy debris. So whatever project you're handling, ABC and Dumpster Rental is proud to have unmatched dumpster selections.
Flexible Rental Periods
Another thing to factor in when vetting to get the best Tarzana dumpster rental is flexibility. Can the company fit into your project schedule? Do they offer same-day dumpster rentals in Tarzana? Are they reliable for a dumpster rental extension? Our ABC and Dumpster Rental team works round the clock, ensuring that we accommodate emergency jobs and unique waste disposal requests. Furthermore, you can customize your rental to fit your project needs. We service daily, weekly, biweekly, and monthly dumpster rentals efficiently.
Low-Cost Pricing
Dumpster rental cost is also crucial when looking for a dumpster rental near Tarzana. The cost of renting a bin varies with the waste management company and depends on your specific project circumstances. Non-local dumpster rentals can be more expensive, considering the location and time. Thankfully, we're the waste hauling company next door, serving the community of Tarzana and beyond.
Availability
Suppose you leave the waste disposal part of your project to a hauler. In that case, you're better off hiring a responsive and dependable company. Americas Bin Company never disappoints with schedules; we go the extra step to avail your container on time. We've succeeded in delivering containers within a few hours of a request, and we can do it for you. So let us know where you need the waste disposal bin in Tarzana.
Experience
An experienced customer rep and truck driver can save you valuable time. You can be confident that professional customer support offers the best waste management solutions. They can guide and help you secure the right bin and recommend eco-friendly pathways for your construction debris or household garbage.
Best Dumpster Rental in Tarzana
Americas Bin Company and Dumpster Rental accept everything, from construction waste to demolition garbage to residential junk to yard debris, office junk, and event waste. So whether you've got a yard party or need to dispose of roofing debris, we are the unbeatable Tarzana dumpster rental to call.